Free Delivery

Free shipping to S.F. Store

30-Day Return

Free and easy to return
Let's explore the best anti-aging solution together !
---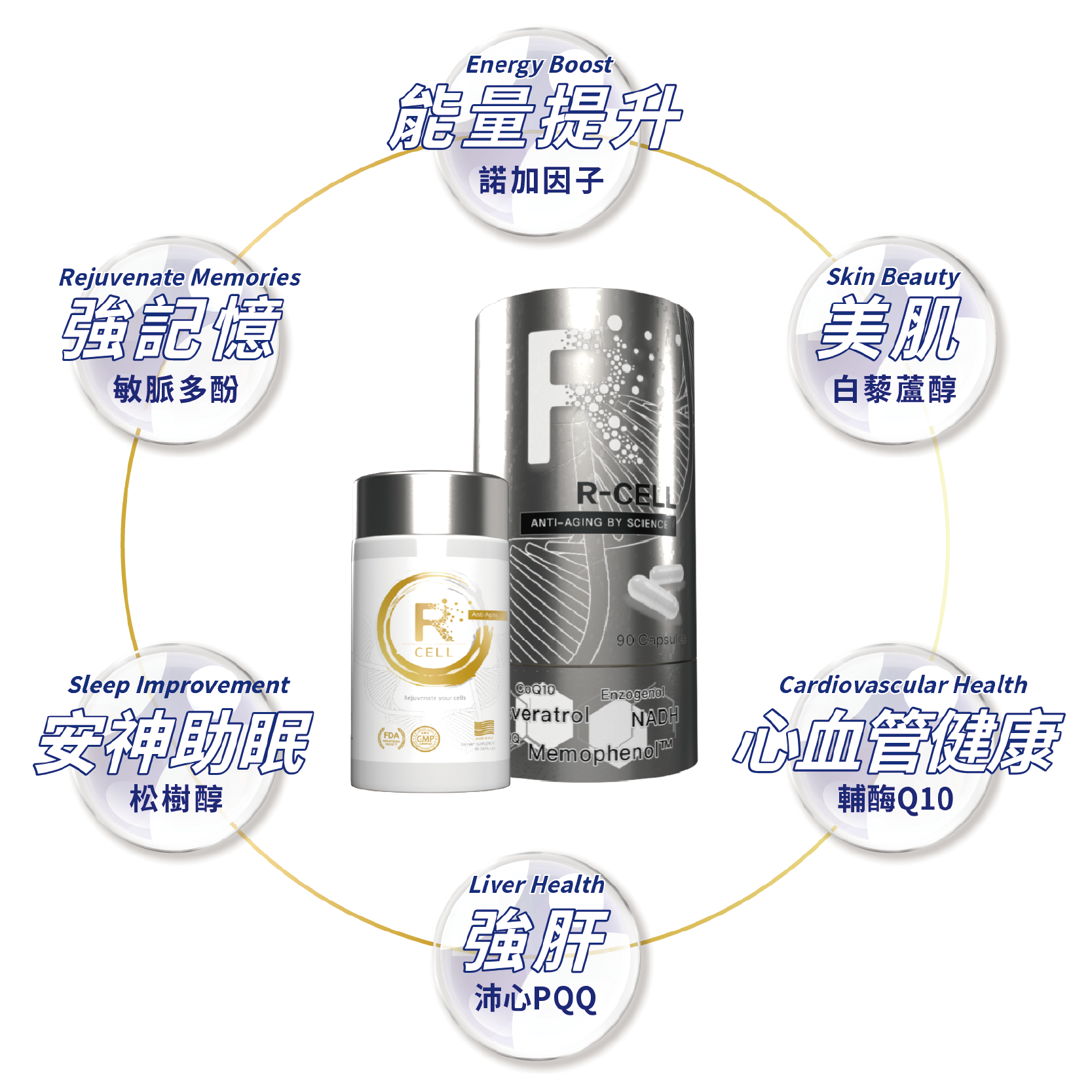 At RejunBio, quality is first and foremost.
We incorporated only the highest-quality ingredients from top scientific institutes (Austria, France, Japan, The US). We have been doing this since the first bottle of R-Cell sold.
With all the quality control work, RejunBio guarantee our products have been created by using the best ingredients and according to the strictest quality criteria.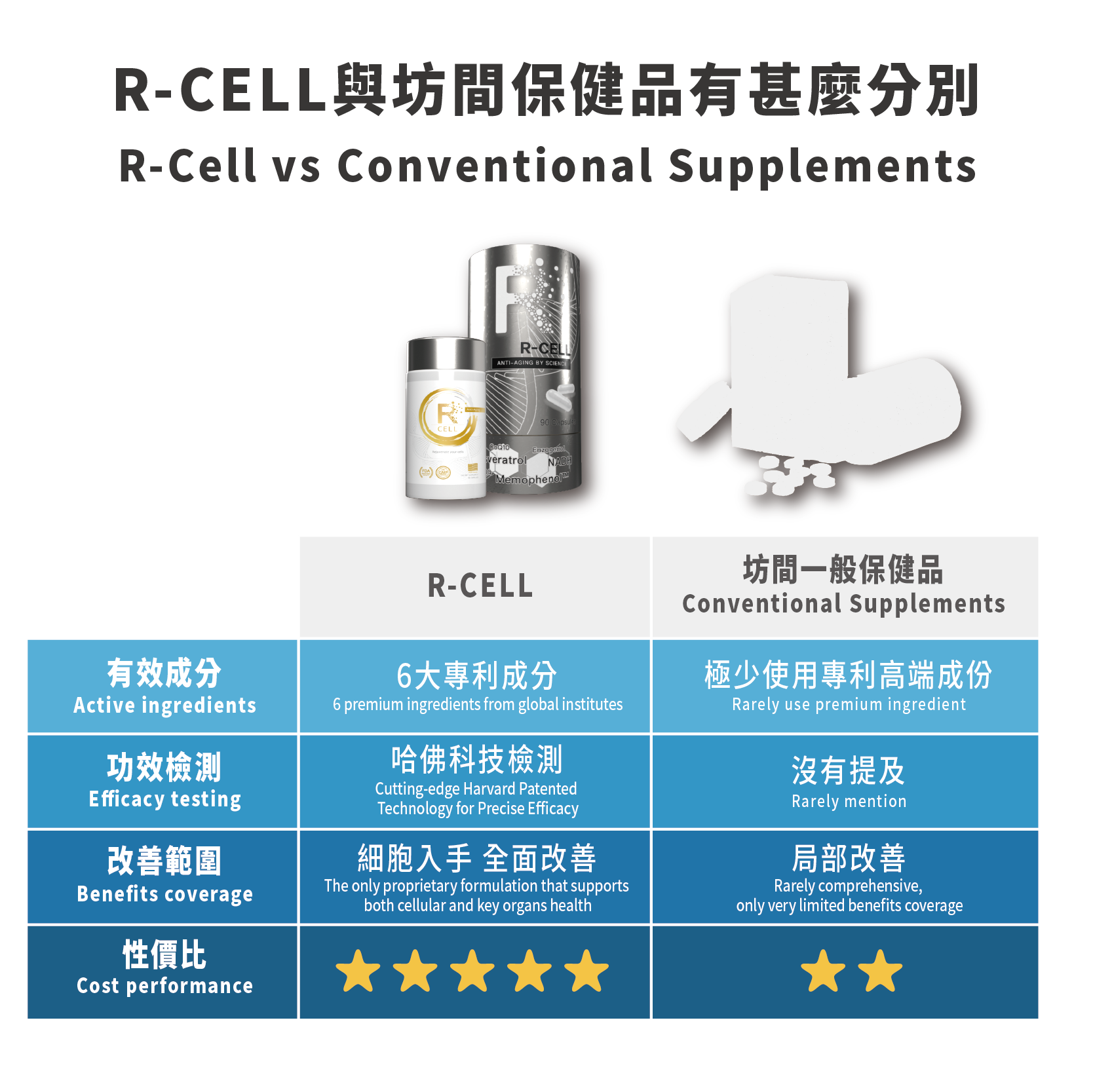 RejunBio is the best supplement brand for your rejuvenation journey.
R-CELL contains 6 of the leading compounds in the anti-aging industry, combined with 10 vital vitamin supplements to give you an essential combination of ingredients to combat your anti-aging needs in one capsule.
What are the Top 6 ingredients ?
R-Cell, the only undo-aging capsule.
R-CELL is comprised of 6 Premium anti-aging ingredients, plus 10 essential vitamins. R-Cell's proprietary formula initiates your rejuvenation journey.
You need R-CELL because it is the most powerful anti-ageing capsule with strong evidence and research to prove it can help to:
Activate your longevity genes.

Supply your body with the best NADH (nicotinamide denine dinucleotide & hydrogen).

Reinforce cellular health.

Support brain health, memory and sleep quality.

Promote skin youthfulness

Produce anti-ageing benefits including bone health, cardiovascular health, blood control, and oral health.
Our formula is a unique mix of top-quality ingredients with a wide range of different activities: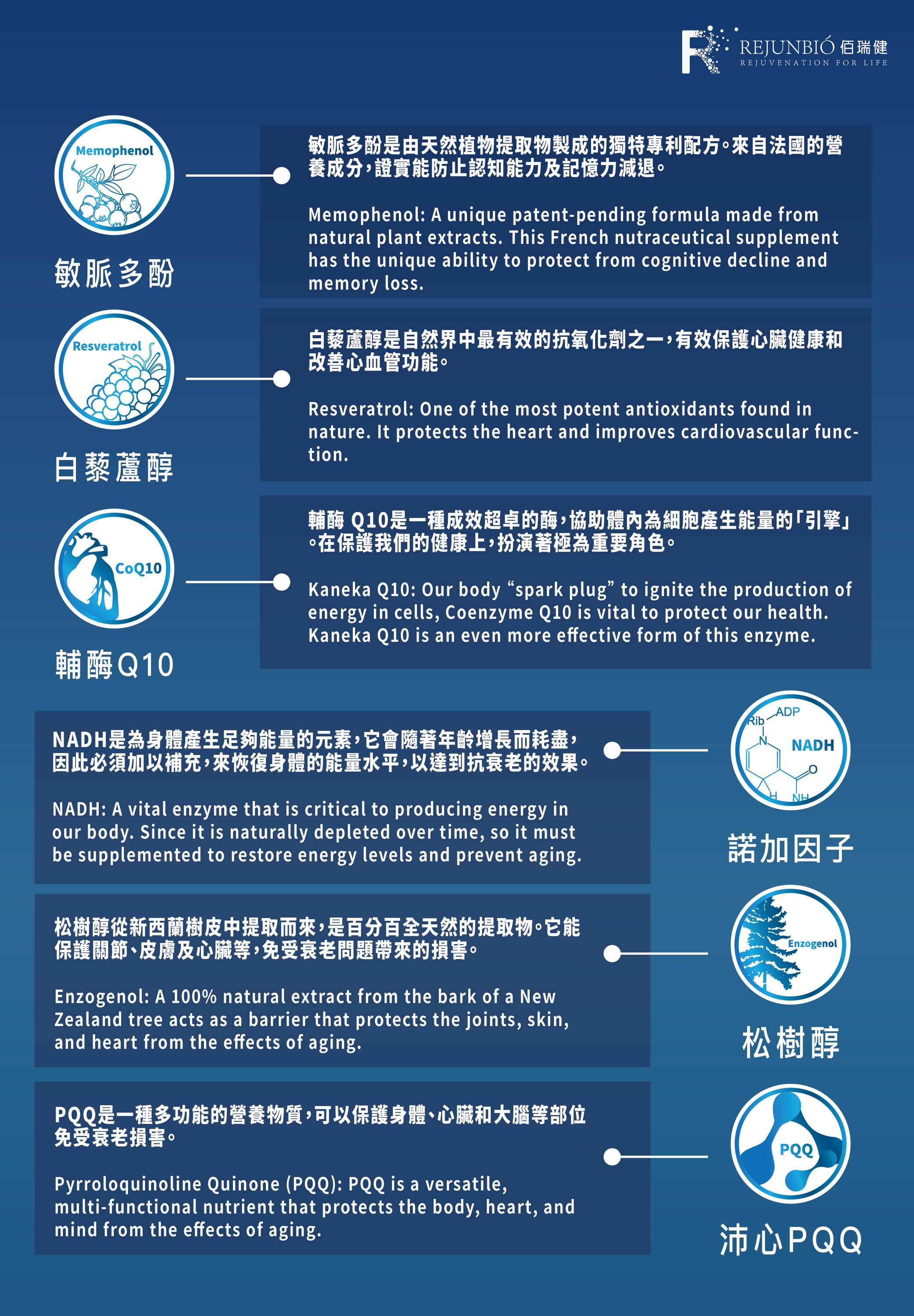 Certification of R-Cell ingredients
Technology and Manufacture
Our manufacturing facility has a modern and well-equipped Quality Control (QC) laboratory. The lab tests all products for purity, safety and effectiveness. Products are released only after thorough analysis following stringent specifications, methods and procedures that comply with international guidelines.
---
Our 60,000-square foot facility is cGMP certified by NSF and Organic certified by QAI. Our talented formulation and development team consists of chemists, biochemists, pharmacists, and Ph.D.'s.
Tel : (852) 2811-5077

Email : info@rejunbio.com